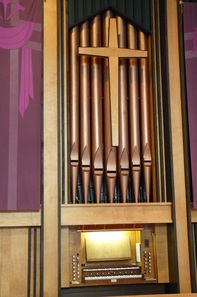 Highwood Lutheran Church lays claim to having the oldest pipe organ in the Province of Alberta and the second oldest in Canada. The organ, Opus 81, was completed in 1870 by the J.H. and C.S. O'Dell Organ Company of New York. It was built for a Presbyterian church of Ossining, New York. It was obtained by Highwood from a Baptist church in Ossining in 1967. It has been recognized by the Historic Organ Committee of the Royal Canadian College of Organists as an historical instrument.

Highwood Lutheran's organ is a mechanical, tracker-action instrument. The organ has two manuals (keyboards) and a pedal-board. The manuals each have 58 keys and the pedal has 25 keys. There are 23 ranks, 4 couplers, 8 combination pistons, and approximately 1,400 individual pipes ranging in size from a few inches long to 16 feet long. It has two divisions, or sections, the Great Division and the Swell Division.

Although the organ comes to us from another place and time, it speaks to us boldly and clearly today in sounds that we can love and understand. It is ideally suited to the liturgy of the our church, for hymn-singing, and for accompanying our choir.